There's one thing that stays the same each year – and that's our love for a good movie. Bollywood felt extra ambitious and decided on testing the waters and released movies made in unusual formats, biographies, and storylines. All of them were interesting, even globally known and acknowledged. But only a few really stood out. Here are some significant number of Bollywood Movies 2019 out on cinemas and Netflix. All you need is some popcorn and the plot and actors will surprise you.
Here's My Top 10 Of The Best Bollywood Movies 2019:
1. URI: The Surgical Strike
This story is about Major Vihaan Singh Shergill who leads a covert operation against a group of militants in Uri, Kashmir, in 2016. Directed by Aditya Dhar, URI shows us all of the events occurring before, during and after the surgical strike conducted by the Indian military inside the area of Pakistan occupied Kashmir. Plenty of action and detail are shown across the 11 tumultuous events that occurred as the operation was carried out.
2. Gully Boy
Zoya Akhtar's Gully Boy pieces together snippets of the life of Murad, a person from Dharavi slums played by Ranveer Singh. Alia Bhatt brings her effusive charm on-screen as Safina but does not have a lot to do in the film. Both add that charm to the film as we watch Murat get inspired by a wannabe rapper in his college.
3. Kesari
This is one of the best Bollywood Movies 2019. This movie is about the Battle of Saragarhi in 1897, where 21 Sikh soldiers fought off an Afghaniarmy of 10000.Director Anurag Singh is behind this inspiring story of human valour and bravery. Akshay Kumar takes the lead in this war drama that combines strong emotions with blood-soaked action.
4. Kabir Singh
Sandeep Reddy Vanga directs Shahid Kapoor in this film that charts the story of a short-tempered doctor called Kabir Singh. Singh wields immense power lethal anger issues but then meets his junior Preeti. For him, it is love at first sight. But then it's not all romance as Singh enters a deep dark abyss of chasing the love of his life. His character is mean, sexist, rude and arrogant.
5. Bala
Young Balmukund Shukla starts out with luscious hair. Fast forward some 20 years later and it's a different story – he is prematurely balding and as all his hair wisps away so does his childhood sweetheart. His confidence gradually vanishes, and it kills his career as a stand-up comedian. Desperate to get his life back on track, he tries out every hair growth remedy he can get his hands on and even ends up with a short-term fix and win the heart of his new love, TikTok star Pari (Yami Gautam).
Read Now: Top 10 Upcoming Bollywood Movies In 2020
6. Badla
Here we see Naina Sethi (Taapsee Pannu) who is accused in a murder case, and her only hope is lawyer Badal Gupta (Amitabh Bachchan). She is hit and loses consciousness when waiting for a blackmailer. Next, she gets up to find her man drenched in a pool of blood with money all over him. At that very moment, someone knocks on the door. It is the police. She is arrested as a suspect for murder. But there is one catch – A man with a track record of winning every case in 40 years of his career. He has only three hours to uncover the truth. Will, he able to find the real murderer?
7. The Sky Is Pink
Shonali Bose's The Sky Is Pink is about death, it is also about several shades of grieving – for those who're left behind. We follow the story of terminally ill Aisha who can't find a bone marrow transplant donor and opts for chemotherapy instead. Unfortunately, this leads to irreversible scarring of the lungs and ultimately her death. Aisha narrates the story posthumously.
8. Batla House
Nikkhil Advani's Batla House, starring John Abraham shows its protagonist in ACP Sanjeev Kumar Yadav of the Delhi Police and his sleuths that manage to track their way to a terror cell in the eponymous house in the national capital. Kumar is blamed when they lose a key special cell officer in a shootout. Then it's political game play mixed in with solving cases, outwitting defence attorneys.
9. Cheat India Movie
Emraan Hashmi plays Rakesh Singh who runs a business that allows education scams to flourish. Director Soumik Sen focuses the story around Sattu (Snigdhadeep Chatterjee), who dreams of a better future but falls prey to his scams instead.
10. Sanju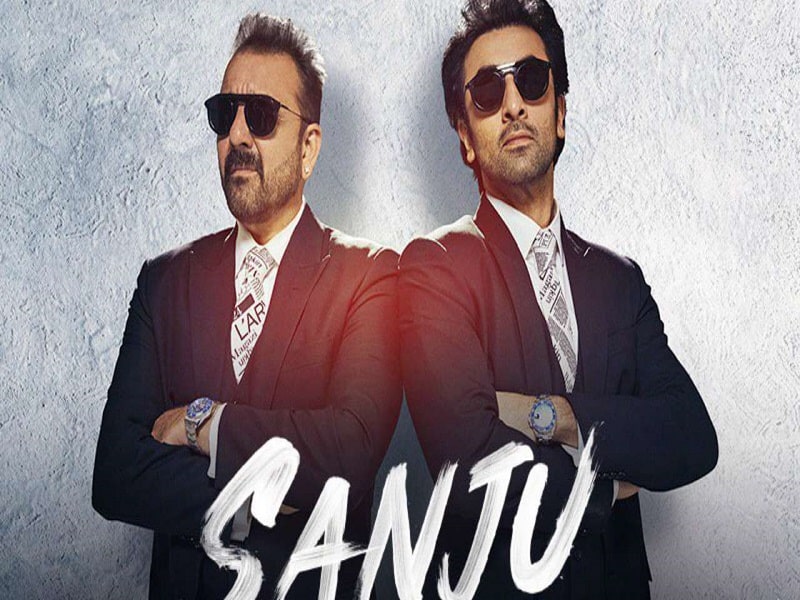 Ranbir Kapoor and Manisha Koirala star in this film directed by Rajkumar Hirani. Although the movie has been made of fans of Sanjay Dutt, it was enjoyed by an even bigger audience. No one does a better job than Ranbir Kapoor who blended beautifully in this film – physically and with makeup, hair – so the real praise goes to the costume department! As you can tell by the name, 'Sanju' is about the actor Sanjay Dutt and his troubled personal life that contrasted his public life and one of Bollywood's biggest names.
The film takes us through the real story about the conviction placed on him due to allegations of him being involved in the 1993 Mumbai bomb blasts, his arrests and his trysts with the TADA. It shows Dutt as a well-intentioned man who also places the blame on others for his failings. Find the intriguing story, good soundtracks and some amazing cinematography on Netflix now.
My list contains the favourites and best Bollywood Movies 2019 that I watch on Netflix or at the cinemas. What do you like to watch? Seen something impressive? Comment down below.