Pakoda is extremely popular in India. You can easily make pakode recipe at home during the monsoon season. We Indians simply love the combination of Tea and Pakoda. It feels heavenly to have the same on any day when our spirits are not high. Pakoda or Pakora derives its name from Sanskrit word Pakvavata, a combination of pakva that is cooked and vata which means a small ball. Most accounts indicate that Pakoda originated somewhere in Gujrat. It is an extremely popular snack across the Indian subcontinent and other South-east Asian countries. In India, pakora is an extremely popular delicacy. There are numerous types of Pakodas that one would find in India. We have onion pakodas, cabbage pakodas, paneer pakodas, mixed vegetable pakoras, potato pakoras, egg pakodas and even meat ones. We Indians simply love these juicy snacks straight from the kadhai.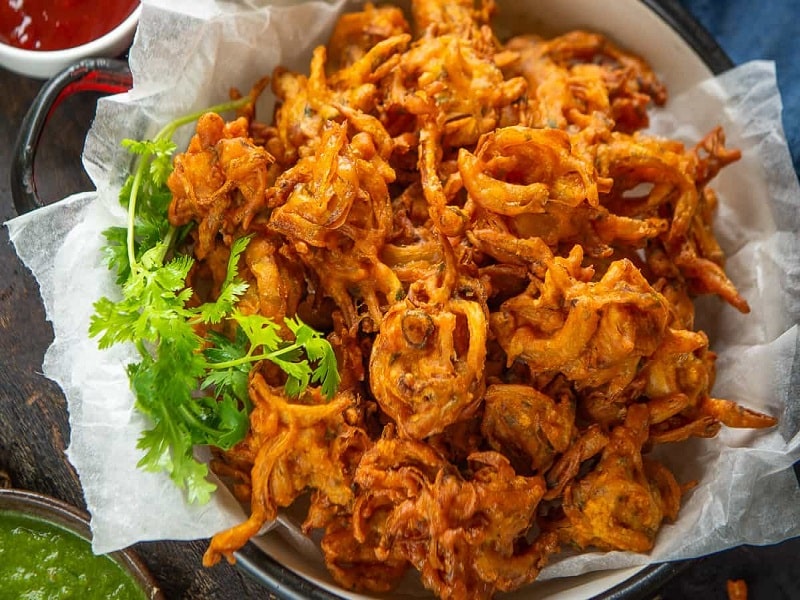 Indian pakodas are basically vegetables coated in besan or refined flour or rice flour and deep fried in the oil. Pakodas were very popular even during the Mughal Era as well. In the different corners of the country we find pakodas varying in shape and flavours. It is a widely celebrated dish. We also have a Chai Pakoda Day which is observed on July 30th every year. They are a very preferred snack when guests come to our homes very suddenly. These are made with ingredients that are readily available in almost all Indian homes. Gear up to dive into the wide world of pakodas and make a very popular street food of Mumbai, Kanda Bhaji or Onion Pakoda or Onion Fritters.
Ingredients For Pakoda or Bhaji Recipe
1. Medium onions: 4-5 (sliced)
2. Gram flour or besan: 3/4th cup
3. Salt to taste
4. Oil for deep frying
5. Red chilli powder-1 ½ tsp
6. Turmeric powder-1/4 tsp
7. Coriander powder- 1 tsp
8. Cumin powder- ½ tsp
9. Carom seeds or ajwain- ½ tsp
10. Fresh coriander leaves- 2 tbsps.
11. Rice flour- 3 tbsps
12. Green chillies- 2-3 no.s
13. Chaat masala- 1 tsp.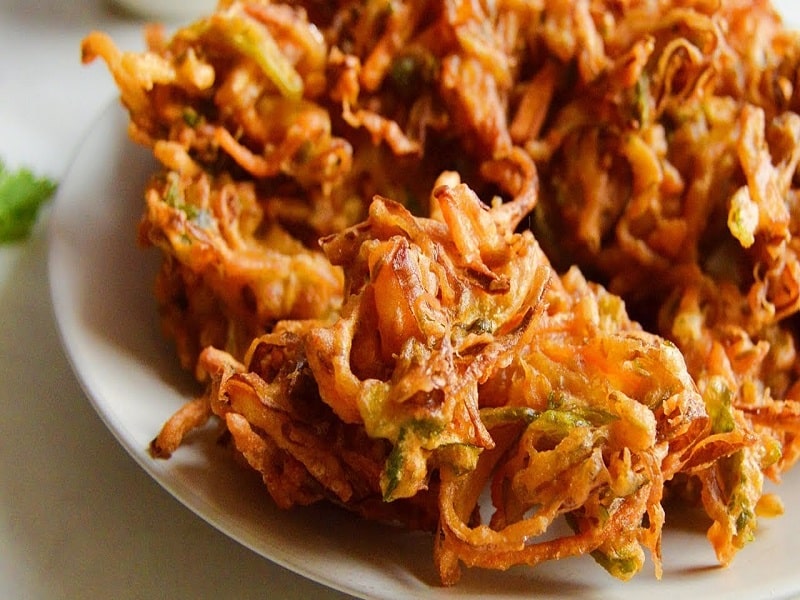 Read Now: How To Make Tasty Vegetable Salad Recipe At Home 
Steps For Pakoda or Bhaji Recipe
Step 1: Firstly, take the onions in a bowl. Add salt and mix it well. Keep this mixture aside for 15-20 minutes.
Step 2: Meanwhile heat sufficient oil in a kadhai.
Step 3: Add red chilli powder, turmeric powder, coriander powder, cumin powder, carom seeds and chopped coriander and mix well.
Step 4: Add the rice flour and gram flour or besan. Mix it well.
Step 5: Drop small portions of the onion mixture into the heated oil. Deep fry till the balls are golden and crisp.
Step 6: Slit some green chillies and deep fry these.
Step 7: Drain both the pakodas and chilies on an absorbent paper.
Step 8: After taking the bhaji out, sprinkle chaat masala on them and give them a gentle mix.
Step 9: Sprinkle some salt on the fried chillies and serve them with the pakodas.
You can enjoy these pakoda recipe at home on a rainy day with a steaming cup of tea. They are also a great accompaniment for a gathering at your home. Do try the recipe.