Are you fond of eating momos? Are you an ardent chicken-lover? If yes is the answer to the above questions, we have brought a perfect recipe for chicken momos at home your weekend breakfast.
Momos have become a favourite street food of one and all, and its popularity sees no end. This dish is native to Tibet and Bhutan, but today it has become one of the most loved street foods in the country, especially in North India. These little dumplings are healthy, tasty, and versatile. They could be cooked using vegetables, chicken, mutton, and whatnot. The recipe is very easy. All you are required to do is to gather all the ingredients and begin with the preparation.
How to prepare chicken momos at home.
Ingredients:
For the dough:
1.  Refined floor – 2 cups
2. A pinch of salt
3. Water
Also Read: How To Make Tasty Vegetable Salad Recipe At Home
For the stuffing:
1.  Minced chicken – 200 grams
2. Finely chopped spring onions – • ¼ cup
3. Finely chopped coriander – 2 tablespoons
4. Finely chopped onion – medium-size
5. Ginger-garlic paste – 1 teaspoon
6. Crushed black pepper – ½ teaspoon
7. oil – 1 teaspoon
8. Salt to taste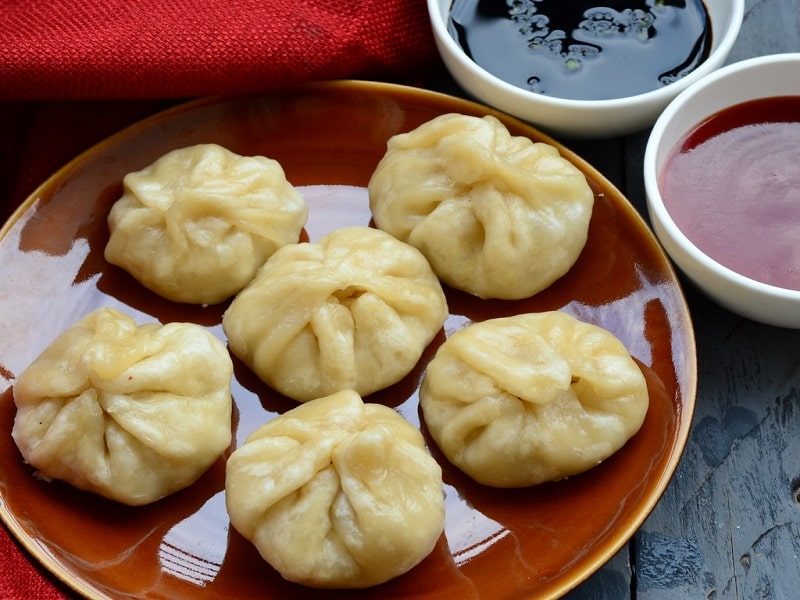 Instructions:
Step 1: Take the refined flour in a bowl and add some salt to it. Add some water and knead it in a soft and smooth dough. You may add more water if required. Cover the dough with a clean damp cloth and let it rest for 15-20 minutes.
Step 2: Mix all the ingredients to make the stuffing of the momos. Additionally, you may add soya sauce, depending upon your requirement.
Step 3: Roll the dough and divide it into equal portions. Turn the dough into thin sheets with a rolling pin. Leave the edges thinner than the center.
Step 4: Put the stuffing into the sheet and start preparing the dumpling by pleating all the edges and then gathering them at the center. You may as well make other shapes and sizes, according to your preference.
Step 5: Take a steamer and fill it with some water. Let it boil for 10-15 minutes.
Step 6: Put the momos into the steamer. Cook this preparation on a high flame for about 15-20 minutes until the momos become softer and damper.
Step 7: Serve the chicken momos at home hot with a dip of mayonnaise or any chutney.
This preparation of chicken momos at home doesn't take a lot of time or effort. Pair it up with a cup of tea on a winter morning. You will thank us later.