Diamond and lipstick are a woman's best friend, and for all those ladies who love to tint their lips with colourful lipsticks – Renee Lipstick 5-in-1 is a must-have.
Renee FAB 5 is one of the best things that you would want to buy to add to your makeup arsenal. This lipstick has five different shades – yes, you heard it right. The POP-PUSH-PLAY concept of this lipstick lets you interchange the colours at any time you want so that you may wear them in style. The product is easy-to-carry, and easier to use. You don't have to carry a pouch full of lipsticks anymore; Renee Lipstick 5-in-1 is enough to serve your lipstick-needs.
Also Read: Moms And Co Charcoal Face Pack Review
This lipstick includes five gorgeous shades in varying colours – true taupe, ravishing red, captivating coral, mauves, and violets – perfect for all skin tones. All these shades are perfect for all kinds of events – Sunday brunch, office meetings, dinner dates, cocktail parties – you name it!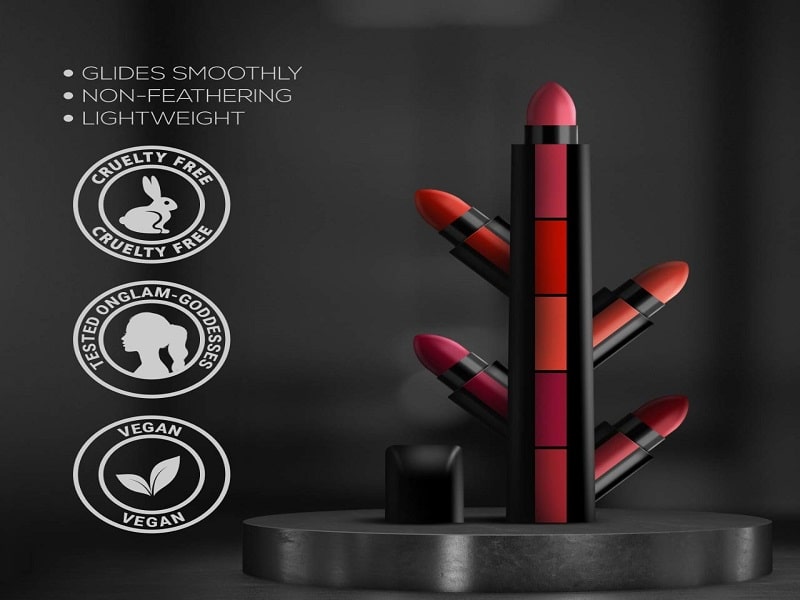 Here are the salient features of the Renee Lipstick 5-in-1:
This lipstick comprises five diverse lip colours, perfect to don during any event and suitable for all skin tones.
The soft and creamy texture of this lipstick glides smoothly on your lips, hence ensuring a comfortable wear.
The creamy texture lasts long. You don't have to coat your lipstick time and again.
The POP-PUSH-PLAY technology of this lipstick lets you interchange the colours like the back of your hand. Even when you are in a jiffy, you can change the lip colours in seconds.
All the lip colours in this lipstick are highly pigmented. The colour so obtained is rich and appealing.
The portability of Renee Lipstick 5-in-1 is another highlight of this lipstick. You can carry it almost anywhere. It doesn't require a makeup pouch; it may be carried in your pockets as well.
This product has not been tested on animals. Hence, it is cruelty-free and vegan.
If you are of an opinion that Renee Fab 5 would cost you a fortune, let us burst your bubble. This pocket-friendly lipstick pack is very nominal; you may get it at Rs. 750 only. Imagine paying such an affordable price to get something that you have always been looking for!
Renee Fab 5 has become a hot favourite for all the bloggers and makeup enthusiasts. This beautiful pack of lipsticks is worth a Now you can pop, push and play with Renee's Fab 5. Enjoy multiple shades without the hassle of carrying many lipsticks the hype and popularity. Get it now at the best price, and we promise you wouldn't regret buying it.