Who does not need impeccable hair and skin that stays on their special day? Everyone wants that, right? Therefore, Kama Ayurveda has come up with some amazing kits that will add glow to your skin and make it smooth and supple. One of the astonishing products from this brand is Kama Ayurveda one year before the wedding kit. This elegant collection of your beauty regime will make you even more beautiful on your d-day. It contains essential skin product that will help to nourish your skin and keep it away from dryness. With its refreshing aromas and moisturizing properties, you will make your body more calming and comfortable. Thus, you must use this delightful set of handcrafted essentials featured with indulgent aromas before your wedding day.
Here in this blog, we are going to provide you with brief information about Kama Ayurveda before the wedding kit and how it is useful to rejuvenate your body before the wedding.
AlsoRead: Kama Ayurveda Bringraj Oil Review: Natural oil for healthy hair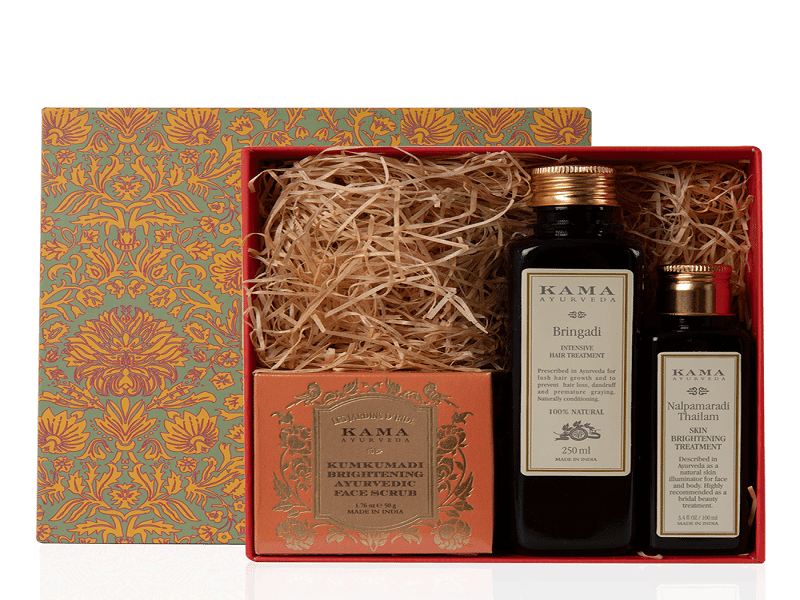 What you will find in Kama Ayurveda one year before the wedding kit?
This classic ayurvedic treatment for your full body will help to re-texturise your skin by making it clear and smooth. You will find an oil treatment for your skin in the beautiful box of Kama Ayurveda one year before the wedding kit that will help you to get rid of irritation and itchiness caused on the skin. This product is formulated with natural herbs processed in sesame oil and pure coconut milk. It will serve to be the best remedy for skin issues like sunburn, hyperpigmentation, tanned skin, dryness and patchiness. It also comprises other natural ingredient known as Costus and cardamom. These natural ingredients are known for their skin rejuvenating properties. It will effectively enhance your skin texture and helps to treat irritation on your skin. With the regular use of this oil, you will be able to get softer and smoother skin with radiance.
Read Now: Unbaised Review-MCaffeine Naked & Raw Coffee Skincare Products Review
Benefits of Kama Ayurveda one year before the wedding kit
1. This is a 100% natural product that offers you excellent skin healing properties.
2. It will help to repair your skin and nourishes it well.
3. This amazing treatment with herbal and earthy scent can be used for your face and body.